You are visitor No.

from February 2014. Thanks.
our medial partner
The weather at the Olympia train: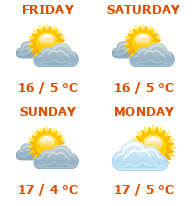 More weather
Park Railway Olympia Brno is open for you:
from 1st May to 31th October
every Saturday, Sunday and holiday, usually 10 a.m. to 6 p.m.
Lunch break: 12:30 p.m. to 1:30 p.m.
Railway is 1500 meters long and journey takes 13 minutes.

Boarding place is at the Olympia park main station which is located
on the left part of the park.
Ticket costs 50 CZK for one persone each and every
and you can buy it in the ticket office on the first platform.
You can purchase tourist card, tourist diary and other souvenirs in the ticket office too.

All operating days find in the Events.
We can organize ride for larger groups out of operating days by prior arrangement.
Contact us by mail:
Plan of the park.
Place for boarding and getting out is marked with red arrow.
We request visitors of the Park Railway Olympia Brno for adhere to the instructions:


- DON´T ENTER INTO RAIL YARD, ESPECIALLY BEFORE GOING TRAIN
- BOARD AND GET OFF UNTIL TRAIN DOES NOT STOP
- YOU MUST HAVE LEGS ON FOOTBOARDS
AND DON´T LEANT OUT OF THE WAGGONS ON THE RUN
- GOING TRAIN HAS ALWAYS PRIORITY, ON PEDESTRIAN CROSSING TOO
- DON´T PUT ANY THINGS ON TRACK AND SWITCHES, ESPECIALLY BALLAST
- DON´T CLEAN YOUR SHOES OVER TRACK AND SWITCHES,
POTENTIAL FILTH CAN CAUSES VEHICLE DERAILMENT
- WATCH OVER YOUR CHILDREN
- STAY ONLY ON PLACES FOR VISITORS
- ALWAYS RESPECT INSTRUCTIONS OF THE STAFF

Operating day of the Park railway

Event outside the Park railway

Steam operating day of the Park railway

Realized event at the Park railway

International meeting Steam Olympia

Realized event outside the Park railway



<! začátek čtvrtletí #################################################################>
Mo

Tu

We

Th

Fr

Sa

Su

1

2

3

4

5

6

7

8

9

10

11

12

13

14

15

16

17

18

19

20

21

22

23

24

25

26

27

28

29

30

31

| | | | | | | |
| --- | --- | --- | --- | --- | --- | --- |
| Mo | Tu | We | Th | Fr | Sa | Su |
| | | | | | | 2 |
| 3 | 4 | 5 | 6 | 7 | 8 | 9 |
| 10 | 11 | 12 | 13 | 14 | 15 | 16 |
| 17 | 18 | 19 | 20 | 21 | 22 | 23 |
| 24 | 25 | 26 | 27 | 28 | 29 | |
| | | | | | | |

| | | | | | | |
| --- | --- | --- | --- | --- | --- | --- |
| Mo | Tu | We | Th | Fr | Sa | Su |
| | | | | | | 1 |
| 2 | 3 | 4 | 5 | 6 | 7 | 8 |
| 9 | 10 | 11 | 12 | 13 | 14 | 15 |
| 16 | 17 | 18 | 19 | 20 | 21 | 22 |
| 23 | 24 | 25 | 26 | 27 | 28 | 29 |
| 30 | 31 | | | | | |
<! konec čtvrtletí #################################################################> <! začátek čtvrtletí #################################################################>
| | | | | | | |
| --- | --- | --- | --- | --- | --- | --- |
| Mo | Tu | We | Th | Fr | Sa | Su |
| | | 1 | 2 | 3 | 4 | 5 |
| 6 | 7 | 8 | 9 | 10 | 11 | 12 |
| 13 | 14 | 15 | 16 | 17 | 18 | 19 |
| 20 | 21 | 22 | 23 | 24 | 25 | 26 |
| 27 | 28 | 29 | 30 | | | |
| | | | | | | |

| | | | | | | |
| --- | --- | --- | --- | --- | --- | --- |
| Mo | Tu | We | Th | Fr | Sa | Su |
| | | | | 1 | 2 | 3 |
| 4 | 5 | 6 | 7 | 8 | 9 | 10 |
| 11 | 12 | 13 | 14 | 15 | 16 | 17 |
| 18 | 19 | 20 | 21 | 22 | 23 | 24 |
| 25 | 26 | 27 | 28 | 29 | 30 | 31 |
| | | | | | | |

| | | | | | | |
| --- | --- | --- | --- | --- | --- | --- |
| Mo | Tu | We | Th | Fr | Sa | Su |
| 1 | 2 | 3 | 4 | 5 | 6 | 7 |
| 8 | 9 | 10 | 11 | 12 | | |
| 15 | 16 | 17 | 18 | 19 | | |
| 22 | 23 | 24 | 25 | 26 | | |
| 29 | 30 | | | | | |
| | | | | | | |
<! konec čtvrtletí #################################################################> <! začátek čtvrtletí #################################################################>
| | | | | | | |
| --- | --- | --- | --- | --- | --- | --- |
| Mo | Tu | We | Th | Fr | Sa | Su |
| | | 1 | 2 | 3 | | |
| | 7 | 8 | 9 | 10 | | |
| 13 | 14 | 15 | 16 | 17 | | |
| 20 | 21 | 22 | 23 | 24 | | |
| 27 | 28 | 29 | 30 | 31 | | |
| | | | | | | |

| | | | | | | |
| --- | --- | --- | --- | --- | --- | --- |
| Mo | Tu | We | Th | Fr | Sa | Su |
| | | | | | | |
| 3 | 4 | 5 | 6 | 7 | | |
| 10 | 11 | 12 | 13 | 14 | | |
| 17 | 18 | 19 | 20 | 21 | | |
| 24 | 25 | 26 | 27 | 28 | | |
| 31 | | | | | | |

| | | | | | | |
| --- | --- | --- | --- | --- | --- | --- |
| Mo | Tu | We | Th | Fr | Sa | Su |
| | 1 | 2 | 3 | 4 | | |
| 7 | 8 | 9 | 10 | 11 | | |
| 14 | 15 | 16 | 17 | 18 | | |
| 21 | 22 | 23 | 24 | 25 | | |
| | 29 | 30 | | | | |
| | | | | | | |
<! konec čtvrtletí #################################################################> <! začátek čtvrtletí #################################################################>
| | | | | | | |
| --- | --- | --- | --- | --- | --- | --- |
| Mo | Tu | We | Th | Fr | Sa | Su |
| | | | 1 | 2 | | |
| 5 | 6 | 7 | 8 | 9 | | |
| 12 | 13 | 14 | 15 | 16 | | |
| 19 | 20 | 21 | 22 | 23 | | |
| 26 | 27 | | 29 | 30 | | |
| | | | | | | |

| | | | | | | |
| --- | --- | --- | --- | --- | --- | --- |
| Mo | Tu | We | Th | Fr | Sa | Su |
| | | | | | | |
| 2 | 3 | 4 | 5 | 6 | 7 | 8 |
| 9 | 10 | 11 | 12 | 13 | 14 | 15 |
| 16 | 17 | 18 | 19 | 20 | 21 | 22 |
| 23 | 26 | 27 | 26 | 27 | 28 | 29 |
| 30 | | | | | | |

| | | | | | | |
| --- | --- | --- | --- | --- | --- | --- |
| Mo | Tu | We | Th | Fr | Sa | Su |
| | 1 | 2 | 3 | 4 | | 6 |
| 7 | 8 | 9 | 10 | 11 | 12 | 13 |
| 14 | 15 | 16 | 17 | 18 | 19 | 20 |
| 21 | 22 | 23 | 24 | 25 | 26 | 27 |
| 28 | 29 | 30 | 31 | | | |
| | | | | | | |
<! konec čtvrtletí #################################################################>