You are visitor No.
from February 2014. Thanks.
our medial partner
The weather at the Olympia train: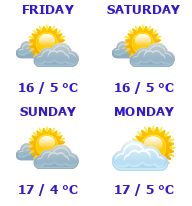 More weather
| | | |
| --- | --- | --- |
| | Park Railway Olympia Brno is located in the green area of the shopping centre Olympia in the vicinity Svratka river. The railway was ceremonially opened for the general public on June 2012 after two years construction and two seasons of testing operation. | |
| | | |
| --- | --- | --- |
| | Our "park railway next to Svratka" is intended for a big scale railway models operation. It means, that modeller rides on model and he controls all operations of engine as on real locomotive. Visitors go in adapted models of railway coaches. | |
| | | |
| --- | --- | --- |
| | Park Railway Olympia Brno is the first large model railway in the Czech Republic. It counts to best park railways in Europe by its lenght, line conception, technical equipment and beautiful park surroundings. Boarding and getting out ongoing to the main station which is a miniature real railway buildings from turn of the 18th and 19th century. The station building, workshop and depot with turntable and round-house were an integral parts of the old stations. You can see historical semaphores - a mechanical distant signal, two-armed home signal from 1913 and bell signal at our station. | |
| | | |
| --- | --- | --- |
| | Park Railway Olympia Brno enables operation each model which is constructed according to international norms NEM. There are special trains for public, Czech and foreign private models run on our park railway. The coal fired steam locomotives count between most attractive models. They represent exact miniatures of theirs realy masters and they burn coal truly. It is a big ability construct and control this model. The steam locomotives are in operation every first weekend. | |
| | | |
| --- | --- | --- |
| | We organize international modeller meeting under name Steam Olympia, which is take place at the beginning of June usually. Visitors can witness operation of unique steam models and big steam engines all weekend. | |
| | | |
| --- | --- | --- |
| | It is sunny summer day. Young family come along entry pavement at the main station of the park railway. They are missing ticket office at the first. There are buy a valid tickets. There is possibility buy a souvenirs with railway and transport themes. Children like the colouring book and pairs with locomotives and coaches of the our park railway. But they buy them on the way back because they don´t want to keep them during their sightseeing ride. Men´s and ladies´ toilets are without saying and they accessible on the first platform. But the main operation is on the second platform. There is a regular passenger train ready for departure on the second track. It is hauled by narrow-gauge diesel locotractor Gmeinder. Five minutes to departure and they can look around station. | |
| | | |
| --- | --- | --- |
| | The steam locomotive is heating in the round-house. This train will transport nonscheduled sightseeing train comprising open bench coaches. These coaches are pulled from depot by electric shunting locomotive at the moment. The transport controller alerts passengers at the second platform because nonscheduled sightseeing train will arrive at the third track. The work train with self-discharge wagons, which kept filling a ballast at the track, is stopping at one of the handling rails. The transport controller warn about forthcoming departure of the regular passenger train. This train is ready at the second platform, the second rail. The nonscheduled sightseeing train is coming at the third track. The engine driver uncouples an electric shunting locomotive and locomotive goes back to the depot. Two minutes to departure regular passenger train and the transport controller is checking ticket to passengers. He clips every ticket by pincers. We are waiting for a gaining granny with two grandchildren. Follow necessary tickets checking and all is ready - "Departure!" A gurgle diesel locomotive revs up, short toot and passenger trains get moving. The engine driver accelerates behind departure junction and all train fades into the distance shortly. | |
| | | |
| --- | --- | --- |
| | But steam locomotive is ready for operation and it slowly run on the turntable. Draining valves are open fully and locomotive is shrouded in steam. The locomotive stops at the turntable and engine driver turns it to the one of station rails. And necessary securing rails by latch even. The locomotive leaves turntable, entries into the station and slowly run to the nonscheduled sightseeing train. An impatient passengers get on. The engine driver executes test of brakes and he oils coupling rods. The train is ready for departure ... | |
Come in and savour the atmospehere of our station. Come in and take a ride.

Olympia train, which is placed in amusement park behind shopping center Olympia,
causes relaxed fifteen-minute ride in nature for you.
You can see more detail informations about Park Railway Olympia Brno
after click on logo of Society of the Moravian Park Railways.
Let´s find Olympia train on Facebook too. We would welcome your views and impulses: