You are visitor No.

from February 2014. Thanks.
our medial partner
The weather at the Olympia train: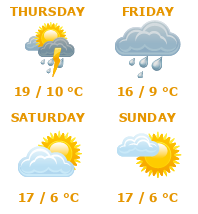 More weather
Park railways is located behind the shopping centre in the vicinity Svratka river.

Driving visitors leave a roundabout by the second entrance and you see our station
on the left side after three hundred meters. There is a free parking place too.
Cyclists and roller-skaters can turn from the cycleway leading from Brno to the south,
cross the bridge over Svratka river in Brno-Prizrenice
and connect to skating lane in the park.
There is a small problem for cyclists - cycling in the park is forbidden.
But you can walk with bicycle through park about three minutes to the station.
We offer steam beer and soft drinks for thirty cyclists at our station too.
| | | |
| --- | --- | --- |
| | Applicants for visit the Park Railway can use free bus line for city centre, too. Transport provide a buses with marking OlympiaBus, traffic island is in the Uzka street. | |
Then you walk through shopping centre and you can use shortcut:
"If you go through Humanic shop which is located on the rear part of the centre,
you walk over parking place yet and you caught before the main station.
Plan of the park.
Place for boarding and getting out is marked with red arrow.
| | | |
| --- | --- | --- |
| | If you can visit us that subsequent maps will help you to find us: | |